Posted on : 06-10-2009 | By :
Ivan Dyukov

| In : Demo
6
I would like to represent an executable demo  which was described at  http://www.computer-vision-software.com/blog/2009/07/barcode-recognition/.
This is demo application for Rhonda barcode recognition library. It's cross-platform library written on C++ language. It was tested on ARM Cortex-A8, ARM11 and x86 platforms.
Average recognition time on 640×480 frames:
P4 – 3GHz:  25ms
Program description:
main window: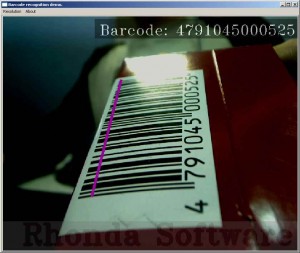 Supported barcode's types: EAN13, UPCA
SYSTEM REQUIREMENTS:
Recommended PC
Processor: Intel P4
Memory: 1GB RAM
Operating system: Windows XP SP3
Minimal screen resolution for Barcode Demo is 1024*768
Recommended camera
Barcode Demo works with any standard USB camera.
Web cam must support 640×480 and 960×720 resolutions and focus range should start  from 5 cm (2 inch).
If you do not already have a camera, we recommend that you purchase the Logitec QuickCam PRO 9000 or the Logitec QuickCam Sphere AF
USAGE INSTRUCTION:
Attach camera to PC and then run "rhonda_barcode_demo.exe"  .
Demo application supports 2 modes: 640×480 and 960×720 resolutions.
Recomended distance from camera to barcode:
5-11 cm (2-4 inch)  for 640×480 mode
5-20 cm (2-8 inch)  for 960×720 mode
Each frame is scanned in 8 directions.  Time of processing of each frame and  each direction are printed to a console window.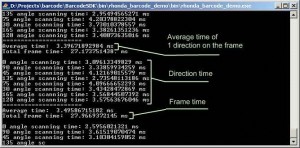 For better recognition, use manual focus of your camera.
Press link below to download the demo:

14139 Downloads Since 2009-09-28